Submitted by: Lynden Girl Scout Junior Troop#50067
Lynden Girl Scout Junior Troop#50067 is inviting the community to come and celebrate the opening of their newly installed Letterboxing Course at Berthusen Park in Lynden. To earn their Bronze Award, they were prompted to find a solution to a challenge in their community. The troop determined that Lynden is in need of more free, family-friendly activities that would get people outside and moving, and also help them discover the importance of our green spaces.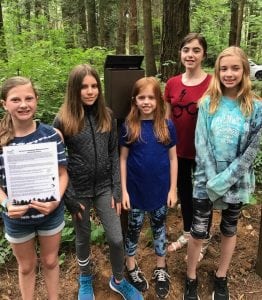 After experiencing a Letterboxing course at the Girl Scout property, Camp River Ranch in Carnation, WA, they thought this would a perfect activity to bring to Lynden. Letterboxing is like a treasure hunt around the park. It combines elements of hiking, scavenger hunting and imagination. Participants follow clues around the park and collect stamps in their journal as they find them.
Letterboxing has been around since the mid-1800s in England and has only gained more popularity in the United States in the last twenty years. Both Girl Scouts and the public are welcome to come and experience the fun of Letterboxing on Saturday July 14, from 11:00 a.m. – 3:00 p.m.
Costs for Girl Scouts or participants wishing to earn a commemorative patch is $10. Family and friends are invited to join in for lunch by donation. This is a permanent course and will be maintained by the troop, which consists of girls going into fifth and sixth grades. Families interested in learning more about the Girl Scout program are welcome to stop by. For more information or to register, contact Lynda Williams at 360-961-3998 or email GirlScouts50067@gmail.com.