You know the feeling you get when you walk into a healthy restaurant or health food store? That slightly overwhelming sensation of it being beyond your price range – or your taste-bud range, for that matter.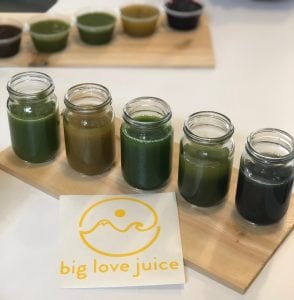 At Big Love Juice they are ditching the health-food stigma, creating a new normal that feels bright, fresh and inspired. This establishment provides tasty and affordable options for all, meeting the variety of ways people are choosing to eat these days.
Big Love's goodness will soon be even easier to get. The opening of their JuiceBar at South Bay Suites in historic Fairhaven is scheduled for June 14, a day that coincides with their fundraiser for Our Treehouse, a local Bellingham non-profit that Big Love Juice wants to recognize as real warriors in our community. Both the downtown Bellingham and Fairhaven restaurants are conveniently located off the South Bay walking trail. If you want, you could get a juice at the downtown location, take a nice 2.5 mile walk to Fairhaven and grab a brunch bowl for lunch. Buy a Warrior juice on June 14 at either or both locations and part of the proceeds will go to Our Treehouse.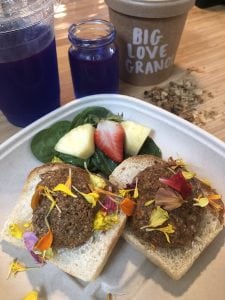 It's all about inclusivity at Big Love Juice; not just for customers, but staff as well. Everyone is welcome, appreciated and relevant. This is apparent as soon as you enter the flagship location inside the historic Herald Building. Here you're greeted by a staircase to the upper seating area. No matter where you decide to sit, make sure to check out this spot. Here you'll find "The Wall."
"The Wall," is an area of the juicery where staff can display their personal passions, endeavors, adventures and more. In essence, each team member can display whatever interesting or meaningful photos they want. This mural of personality shows Big Love employees aren't just staff members. They're an important part of a tight-knit group  – a team in essence – with a message: that although eating well means different things to different people, our nutritional habits don't have to divide us. Rather, in the right space, they bring us together creating an inclusive vibe which fosters health and well-being.
"We want to create a sense of community here," says Desirae Tarris, Positivity Influencer at Big Love Juice.
You may be wondering what a Positivity Influencer is. Don't worry, I was too. Tarris says her role is to influence the level of positivity in her team and environment. She oversees day-to-day operations, educating both employees and guests on Big Love Juice's mission and menu items. Creating new language that speaks to their vision is as big a part of Big Love Juice as creating unique food and beverages.
Big Love makes all their juice and food in-house using organic, local, natural, healthy ingredients. Their juice is raw and cold pressed, and you can really taste the difference. Feeling hungry? They also offer a variety of delicious bowls, toasts, salads, granola and their own baking.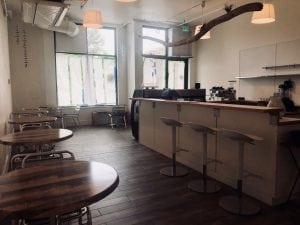 Staples at Big Love Juice are their assortment of 100% organic cold pressed classic juices and surf bowls. Start your day with the classic Big Love. This good-to-go juice combines beet, carrot, lemon, apple and celery. A 12-ounce drink costs $6.49 and 16 ounces is $6.99.
Surf bowls are Big Love's take on acai bowls. The new menu launching next week has the Peace & Love bowl which contains acai, coconut, blueberries, coconutbutta, apple, cranberries, edible flowers and candied pecans. If you really want an energizing start to your morning, get a juice and a bowl. At only $8.99 per bowl you can afford to treat yourself and start your day off right.
"We take pride in everything we make and always craft our food and juices with love and passion," Tarris says. "We want to inspire people to use good healthy food as fuel; food that fuels your soul and your passions."
Sponsored