I travel by the Lighthouse Mission Drop In Center on Holly Street all the time. In the past three years it has transformed from an emergency cold weather shelter to a daily shelter. As a city resident I want to know more and find out how I can help. I was introduced to Dave and James by my wife and son who are volunteering via a service learning class led by Mr. Fleck at Bellingham High School – a math teacher making a difference.
Dave was a guest at the Drop In Center less than a year ago. He grew up in Skagit County and has a successful painting business which he still is a part of with his sister. He was in a bad marriage which caused many problems, forcing him to leave home and contact the Friendship House in Mount Vernon. It had a waiting list so he was referred to the Lighthouse Mission in Bellingham. He stayed at the Drop In Center but didn't like the close quarters. He had access to a camper van. So he stayed in his van on C St near BTC's Fisheries and Aquaculture Sciences Building for nearly a year.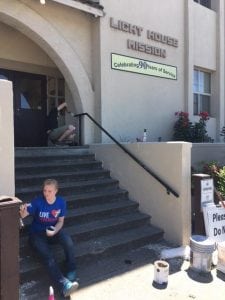 While living in his van, he maintained connections to his business, made friends with others experiencing homelessness and connected his friends with services including the Mission. Dave grew up in a church and believed in "'til death do us part." He struggled to realize his relationship needed to end for him to heal.
He observed the anger of residents near where he lived, who were upset about the garbage left behind by others so he organized a group to do clean up patrols around C Street, Astor Street and Maritime Heritage Park. He volunteered at Homeport Learning Center, improved their frontage with flowers and painting. Word was out about his work and the Mayor's office met with him to thank him for his efforts.
Dave was getting by but still felt like he was enabling himself and his friends. He was involved with a woman who was briefly homeless. She overdosed and he felt God asking him, "What are you doing?" Dave felt the best thing to do was apply to the Missions' New Life Program, a one-year focus on recovery and Christian growth. He didn't like the communal living arrangement but decided to go for it as he felt God was calling him to change.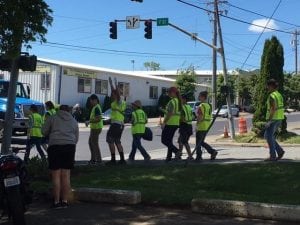 Dave is now five months into the program. He feels he is restoring his walk with God. He's formed healthy relationships with staff at the Mission and is very thankful he was given the opportunity. If he hadn't been accepted he may not have survived. "The Mission can be life's last stop," he says.
He's also learned how to navigate into healthy, supportive relationships which bring others up while simultaneously benefiting himself. Dave should finish his tenure by November of this year.
The New Life Program has 12 participants. They live side-by-side with others in a transitional housing group that includes a student at Whatcom Community College and a WTA employee. The transitional housing program is less structured. Its goal is to reintegrate people into society with job skills training and community connection. Part of Dave's program commitment is the completion of weekly Work Therapy hours, which is where he met James.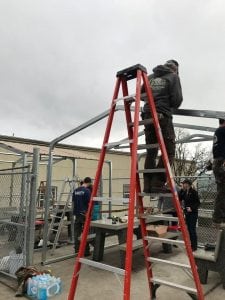 James was a pastor at a local church for 30 years. About five years ago he left his position and, for a time, called himself a "vocational redevelopment practitioner." He was in contact with Hans the director at the Mission. A year and a half ago a restoration technician position opened and he took it. He's a part of the Operations Team, whose mission is to maintain and improve the Mission for the glory of God. He uses his skills in a physical, spiritual and emotional way which suits him perfectly, and gives him an opportunity to support friends like Dave as he works alongside them. In addition, he offers Christian Spiritual Direction to the Mission staff, for their self-care.
So I asked the question I think many are wondering: What can I do personally to be a part of the solution?
The first step is realizing that the problem is not their problem. It's our problem. This includes a realization that homelessness comes from a myriad of starting points: drug abuse, mental illness, domestic violence, high housing costs, high priced medical treatment and lack of access to services.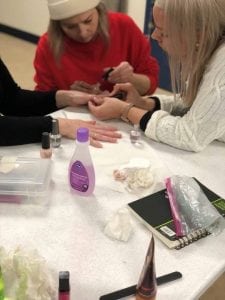 A second step is to realize we are all people and deserve dignity, fairness and respect. A way to take this step might be to offer food to those that ask for money on the street. Maybe you can bring someone a home-cooked meal or a to-go meal, sit down with them and eat together. You can also advise them about the Mission. Let them know that it's a place to get relationally connected, become motivated to take next steps, get support when they make mistakes and be continually empowered to be the solution to their own problems.  Maybe they are new to the area and don't know about it. This may not always work but provides an opportunity to engage with the person seeking monetary help.
A third step is to be a community member. You know your neighbors, right? Do you know the entire block where you live? Introduce yourself! If you know your neighbor and they get into financial trouble, can you help? Bring a meal. House them temporarily. Listen.
The Mission welcomes volunteers both from the community, Bellingham Public Schools and local churches. Physical labor is always needed to maintain the buildings and grounds. Volunteering to listen and get to know guests will take time. Most who stay at the Drop In Center are used to hearing "no" and feel disenfranchised from society. Some are resentful of God as they feel let down. That's why Dave was able to help so many of them when he lived in his camper van. He was at their level. He could be trusted. This goes both ways. A new volunteer will struggle to trust guests at the Drop In Center and vice versa. This is the same with any relationship. It takes time to build trust.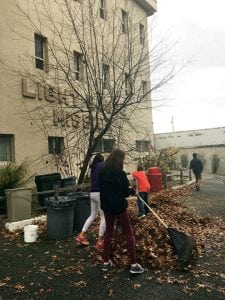 Christ the King Church in Bellingham and Jon Fleck's class has volunteers that are starting to break that divide. Staff at the Mission have these capabilities and are also working along with the Opportunity Council to get to know people in Bellingham experiencing homelessness whether at the Mission or on the streets. A new Mission program called Street Connect invites people off the street and provides basic supplies for those in need.
The Mission has a new Neighbor Relations Coordinator who works with business owners and residents near the Mission to resolve concerns. They hope to move the Drop In Center to a different location with more facilities in the future.
Finally, the Mission and its nearly 50 staff members can utilize financial contributions as well. This helps pay for utilities, salaries, supplies and program expansion to help those in need. What can you do to help those in need?
Got an idea for someone you've always wondered about? Maybe you already know them but think they deserve some limelight. I'm looking to get to know others that make our community a better place, a unique place, maybe even a stranger place. Drop me a line at submit@whatcomtalk.com.