While new to Whatcom County, First Federal has been trusted on the Olympic Peninsula for 95 years. The company got its start as Lincoln Savings and Loan in 1923 and has grown with the financial needs of Northwest Washington ever since. The bank changed its name along the way, but its mission remains consistent: First Federal continues to focus on building relationships in each community they serve.
Community Banking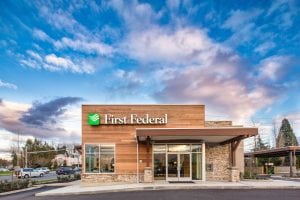 There is something unique about First Federal's Barkley Branch. It feels more like a cozy living room than a bank. Instead of long lines, customers are greeted with a smile and invited to relax.
Krista Jones, Julia Parker and Troy Wills are part of the team that makes this branch such a success. "First Federal truly does put people first," says Jones, a First Federal loan officer with 20 years in the industry. "I love to work for a bank that focuses on building relationships with our banking customers."
"Because of First Federal's mission and their core values, we really place the emphasis on people first," says Branch Manager Julia Parker. "Putting relationships first is an essential part of a new trend in banking. Some banks lose sight of that, but First Federal keeps it in focus."
Supported by the company's mission, vision and core values, the team at First Federal is driven by a desire to build community. They enjoy getting to know everyone who walks through the door and they truly want to help. Regional Manager Troy Wills' goal is to find solutions to challenges instead of telling someone to come back when they've checked all the boxes on a form. "We will dig deeper and work harder," Wills says. "True community banking is not so structured; we're banking from the heart and doing what feels right."
Each location is tailored to the specific needs of its community. For example, First Federal respects the historic nature and strong roots of small businesses in Fairhaven, so they created a branch that offers full service personal and business banking in a boutique setting.
Perfect Blend of Innovation and Customer Service
One of the most innovative features at First Federal's Bellingham locations are their Interactive Teller Machines, or ITMs. Here, customers can complete almost any banking transaction they normally would with a bank teller. The ITM looks like an ATM, but has added technology that enables the user to see and speak with a First Federal employee, similar to Skype or FaceTime. ITMs give more options for customers who want a personalized banking experience.
The team at First Federal are preserving the best parts of old-fashioned banking – like building relationships, taking the time to share a cup of coffee or traveling to business customers – and blending that time-tested customer service with the best of modern technology. Many customers stop in to say hello even if they don't have any business to conduct. These genuine relationships illustrate the bond First Federal has created with its customers. "First Federal is a big name, but really we are a small community bank with experience," Parker says.
Giving Back in Bellingham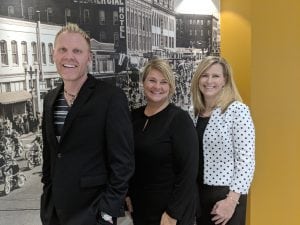 The First Federal Community Foundation was created in 2015 and funded with nearly 12 million dollars. These funds are given back to organizations helping First Federal communities. In Whatcom County, the First Federal Foundation has donated over $200,000 in the last two years to Habitat for Humanity, Skookum Kids, Lydia Place, PeaceHealth, the Bellingham Food Bank and Northwest Youth Services.
"When First Federal first came into this community, it was an opportunity for us to assess," Wills says. "Whatcom County didn't need another bank – we have a lot of banks. But we do have room for another small, community bank that can make a difference."
When asked about the importance of giving back, Parker says, "We're passionate about it as individuals and it's a natural fit with the mission of this bank. As far as community sustainability, it's inherent upon corporations to contribute to those in need in the community for our community to be healthy. We aren't going to be successful as a business if we have a community that is unhealthy."
Anyone who's curious about this unique banking experience is encouraged to visit either Bellingham location. "Come in and have a cup of coffee," Parker says. "We would love to meet you."
Barkley Branch
1270 Barkley Boulevard
Bellingham, WA 98226
360-714-6812
Fairhaven Branch
960 Harris Avenue
Bellingham, WA 98225
800-800-1577
Sponsored